Time and Place of Our Meetings
For Spring 18, the club meeting is on Fridays at 12:15pm in ACD109. To receive announcements about club's activities, please register to our listserv by clicking on "Sign up For Emails" on the top menu.
Earth Day Celebration on April 19 2018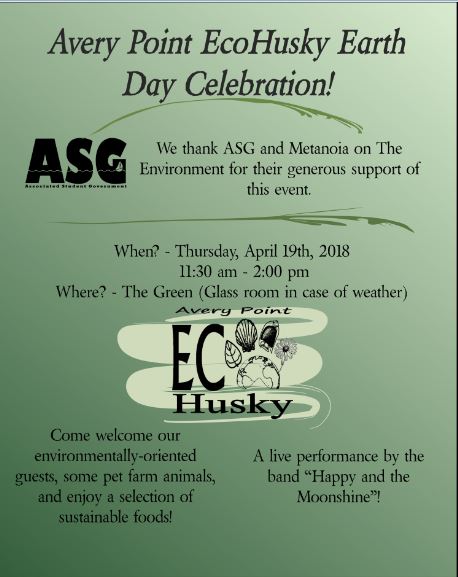 Earth Day Celebration April 21, 2017
Join the 2017 Earth Day celebration
Friday, April 21 from 11:30 a.m. to 1:30 p.m.
on the green at UConn's Avery Point Campus. (Events are 'rain or shine' and will be held in the Student Center in the event of inclement weather.)
Sponsored by the Avery Point EcoHusky Club, the activities are geared to guests of all ages who are concerned about the future of Planet Earth.
Bring canned goods for a Food drive for a local pantry. Participants (UConn students only) will be entered into a random drawing for a Solar Charger Backpack giveaway.
The Earth Day celebration is free and open to the public.
Free refreshments while supplies last!
Ice cream - 50th Anniversary flavor
Invited guests and activities include:
Connecticut Institute for Resilience & Climate Adaptation(CIRCA);
Connecticut Sea Grant;
CT DEEP Site Assessment & Support Unit;
Mayor and Delegates from the City of Groton;
Department of Marine Sciences -- Sea Animals Touch Tanks;
Groton Open Space Association;
Groton Utilities;
League of Women Voters;
New England Science & Sailing Foundation;
Sierra Club;
Student Clubs Activities.
About Earth Day
Earth Day is the largest, most recognizable face of the environmental movement according to Kathleen Rogers, president of Earth Day Network.
She says, "Millions of people in dozens of different countries will become lifelong environmentalists this and every Earth Day. Hundreds of thousands will be children – our planet's future. They will join the more than 1 billion people who already use Earth Day to focus on the urgent need to stabilize and reduce global greenhouse gas emissions, fight climate change.
"As we begin the four year count down to Earth Day's 50th anniversary in 2020, Earth Day Network is pledging to plant 7.8 billion trees worldwide – one for every person on Earth! That's incredibly ambitious, but we believe this down-payment must be made in order to combat climate change and keep our most vulnerable eco-systems from facing extinction."
Upcoming Events
About Us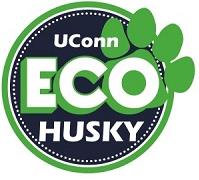 The Avery Point EcoHusky Club is a student environmental organization open to all undergraduate and graduate students, faculty and staff.  We are focused on improving the environment and our goal is to enhance sustainability on the Avery Point campus and surrounding community through our actions and by gathering information and educating the campus community on a wide range of environmental issues
Meetings are held in room ACD109, expect when otherwise announced. The day and time of the meeting is determined at the first meeting of the semester to fit most of the students' schedule.
Officers For Fall 2017-Spring 2018
President: Abbigail Kwiat
Vice President: Analee Mears
Treasury: Cindy Duong
Secretary: Ryan Munasinghe
Vice-Secretary: Gere Johnson
Public Relation:Donny Davino, Jude Hage, Elijah Legassie, Nicholas Mardjekaj